Reminder: The Point Writing Workshop
The Point Committee is hosting an online writing workshop on March 12 @ 2pm. The workshop includes a 20-minute presentation followed by time to write. Check out the writing prompts aligned with The Point's 2023 monthly themes here.
Reminder: Meet the SF PR Committee
The San Francisco Public Relations Committee provides information about A.A. to the general public and members of the community whose profession brings them in contact with individuals suffering from alcoholism. This includes work with the S.F. District Attorney's office and the S.F. Public Library, and participating in community events like Sunday Streets. Come learn about service opportunities and participate in a brainstorming session at Central Office (1821 Sacramento St., San Francisco) on March 11 @ 10am.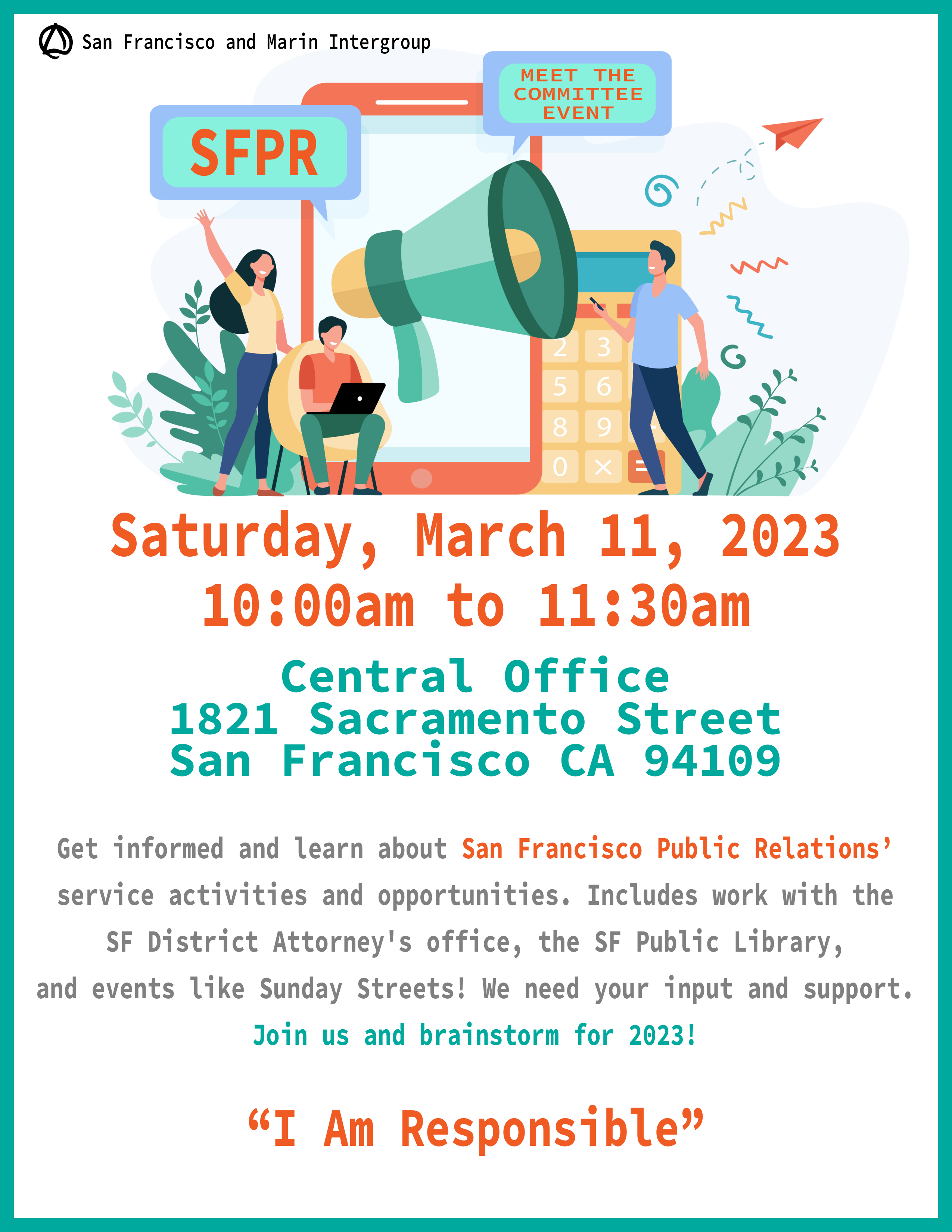 SF Agenda Topics Workshop
The General Service Conference of Alcoholics Anonymous meets each year to consider and vote on matters that affect A.A. as a whole. These items are known as Agenda Topics. In each Area, A.A. groups are invited to give their input—their group conscience—on these Agenda Topics via their General Service Representative (GSR), who in turn, informs the elected Delegate to the Conference. GSRs and those interested in General Service are encouraged to join District 6 (San Francisco) and District 16 (Spanish Central) on March 11 @ 10am at the Gratitude Center (1320 7th Ave., San Francisco) to discuss this year's Agenda Topics.

Marin Pop-Up Bookstore
Micro-Music Fest
Marin County Young People in Alcoholics Anonymous (MCYPAA) is hosting the first annual Micro-Music Fest on March 25 @ 5-9pm at the Marin Alano Club (1360 Lincoln Ave., San Rafael). Enjoy A.A. speakers, music, comedy, dancing and more.

Novato St. Patrick's Day Alcathon
Come to All Saints Church (2 Marin Dr., Novato) on March 17 for meetings every hour on the hour starting @ 4pm. The last meeting is @ 8pm. Consider bringing a dish to share for dinner. There is a $15 suggested donation to cover the cost of food, but no one will be turned away.

Service Opportunities for the Week …
SF Public Relations (online) is March 13.

Orientation @ 6:30pm

Business Meeting @ 7pm

Marin H&I (in person) is March 14.
San Francisco General Service (online) is March 14.
Most Good Ideas Are Simple
For the love of our Primary Purpose, please share this information with your social media communities (keeping in mind our 11th Tradition of anonymity) and encourage your A.A. fellows to subscribe to The Buzz. All of our prior updates can be found here. Drop our subscription link in the chat at your meetings and tell your members to subscribe to stay in the know on what's happening with SF/Marin A.A.
Your San Francisco and Marin Intergroup | Central Office