Welcome IFAA's New Executive Director!
The IFAA Board would like to welcome our new Executive Director, Christina G.! Hailing from West Marin, her home group is Fairfax Attitude Adjustment. She has 24 years of recovery and is joining the Intercounty Fellowship of A.A. with deep professional experience in non-profits.
A word from Christina: "I am grateful and honored to align my personal A.A. experience with the opportunity to serve as the incoming IFAA Executive Director, and look forward to Central Office continuing to serve the suffering and recovering alcoholics in Marin and San Francisco."
Be sure to drop by Central Office to say hello. Welcome Christina—we're so glad you're here!
Check Out the Website Revamp!
The rumors are true: aasfmarin.org has an awesome new look! It's designed to be user friendly, easy to find a meeting, and has more information for the newcomer. Thanks to everyone who worked on it. As with all new sites, there are still a few minor kinks being ironed out, but if you like the site or have suggestions, please let Central Office know!
Today @ 7pm: Sobriety by the Bay (in Person)!
This year's Sobriety By the Bay Event is happening today (Fri 1/7) through Sun 1/9. See below and online for flyer and schedule! Fee for registration is $35.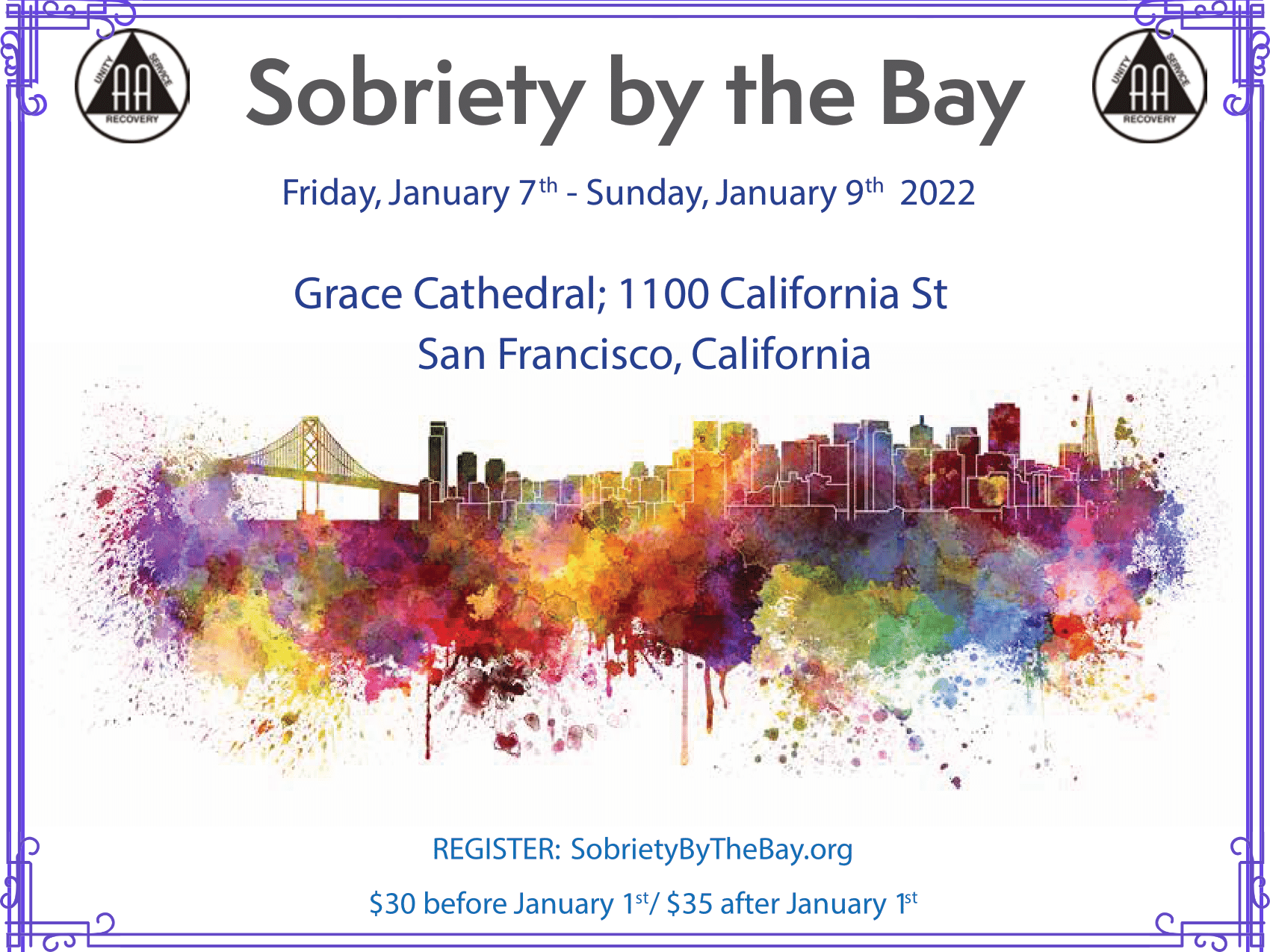 The Point 's January Issue is Posted!
Time to relax and enjoy the January issue of The Point right here! Also, if you're interested in learning more about The Point or just want to say hey, come check out the committee meeting tomorrow, Sat 1/8 @ 12:30pm PST. Zoom info is right here.
Tomorrow @ 2pm: Marin Step by Step Workshop (in Person)

!

Head over to the Hillside Church in San Rafael tomorrow, Sat 1/8 @ 2pm PST, for the first installment of the 2022 Step by Step Workshop series. January is Step One of course! Check the flyer below or online for details.
Save the Date for 1/28: A.A. History Symposium (Online)!
The Symposium on A.A. History brings together A.A. history lovers and researchers to share the experience, strength and hope of the members and groups who came before us, and to foster the next generation of A.A. historians through a commitment to primary research and a reverence for history.
This year's Symposium will take place virtually on Fri 1/28 – Sun 1/30. Registration is $30, and includes a complimentary digital audio package valued at $30. There are scholarships available! Email [email protected] for details. Flyer below and online.
Service Opportunities for the Week…
The Point Committee Meeting (Online) is on Saturday 1/8.

---

SF Public Relations Orientation & Business Meeting (Online) is on Monday 1/10.

Orientation @ 6:30pm PST
Business @ 7pm PST

---

Marin H&I Orientation & Business Meeting (in Person) is on Tuesday 1/11.

---

SF Service Manual & Concepts Study (Online) is on Tuesday 1/11.

---

SF General Service Orientation & Business Meeting (Online) is on Tuesday 1/11.

---

Bridging the Gap Marin Orientation & Business Meeting (Online) is on Wednesday 1/12.

Orientation @ 6pm PST
Business @ 6:15pm PST
A Fresh Start
For the love of renewal, please share this information with your social media communities and encourage your A.A. fellows to subscribe to The Buzz. All of our prior updates can be found here. Drop our subscription link in the chat at your meetings and tell your members to subscribe to stay in-the-know on what's happening with SF/Marin A.A.
Your IFAA Intergroup | Central Office