PRAASA is Coming Up!
Join an amazing weekend of panels, roundtable discussions, open mic sharing and speakers—all focused on General Service— at the Pacific Region Alcoholics Anonymous Service Assembly (PRAASA). You don't have to be in General Service to participate. PRAASA is a great way to get inspired, and all A.A. members are encouraged to attend. March 4-6 online. Register here.
IGRs: Join IFAA's Group Inventory!
Group inventories are essential to a group's spiritual health. After many months working together to prepare, IFAA's group inventory will take place Saturday February 5 @ 10am online. It's an important time for Intergroup Reps (IGRs) and alternates to share opinions and insights on IFAA and its operations—such as Central Office, aasfmarin.org, The Buzz newsletter and more. If you're an IGR/alternate, be sure to check your email for details on how to participate.
Be Restored to Sanity!
The next Step by Step workshop is focused on Step Two. Learn more about "coming to believe" at this speaker/discussion meeting on February 12 @ 2pm in San Rafael. Click here for more info.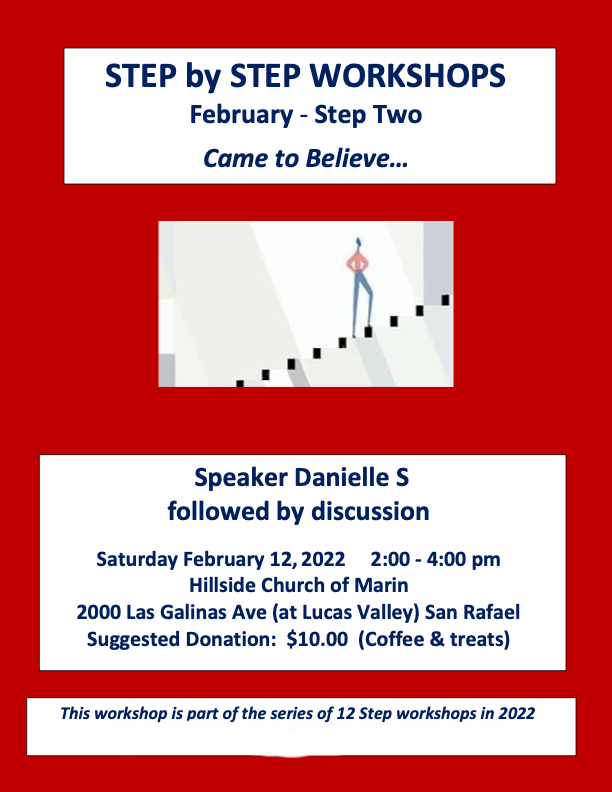 Check out this New Audio Speaker Library!
Missed a meeting? Check out the speakers in the new audio library now available from the Tuesday Chip meeting in Marin. Tuesday Chip started recording speakers during the pandemic. Its library now has a collection of great speakers from around the country, and they're being made available to our Fellowship—great recovery any time!
Join the Sober Football Fun!
This in-person event kicks off with a speaker meeting followed by plenty of food and fellowship. Join the fun on February 13 @ 2pm.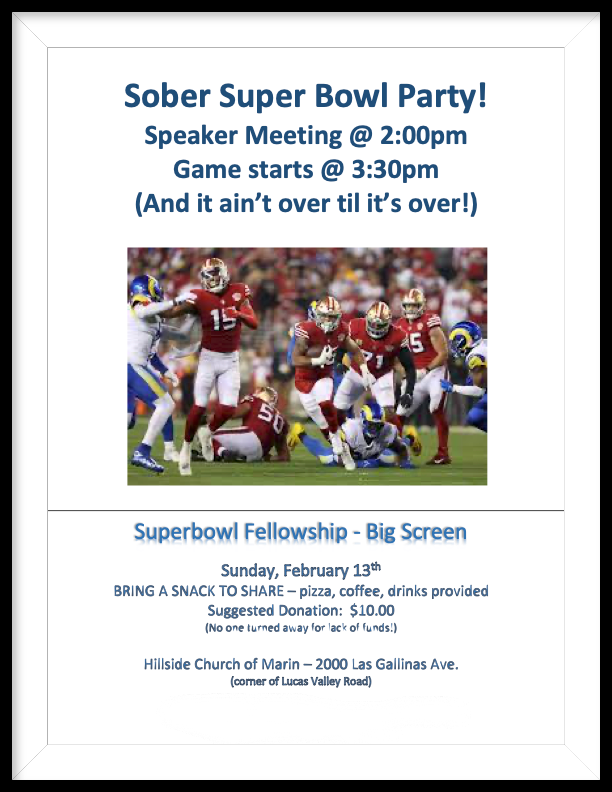 Service Opportunities for the Week …
Marin County Young People in A.A. (In Person) is on Sunday 2/6 @ 2pm at the Marin Alano Club

---

Technology Committee Meeting (Online) is on Monday 2/7 @ 6pm

---

Marin H&I (In Person) is on Tuesday 2/8 at the Marin Alano Club

---

SF Service Manual & Concepts Study (Online) is on Tuesday 2/8 @ 6:30pm

---

SF General Service (Online) is on Tuesday 2/8

Orientation @ 6:30pm
Business Meeting @ 7:30pm

---

Bridging the Gap Marin (Online) is on Wednesday 2/9

Orientation @ 6pm
Business Meeting @ 6:15pm
Embracing Spiritual Health
For the love of group inventories, please share this information with your social media communities and encourage your A.A. fellows to subscribe to The Buzz. All of our prior updates can be found here. Drop our subscription link in the chat at your meetings and tell your members to subscribe to stay in-the-know on what's happening with SF/Marin A.A.
Your IFAA Intergroup | Central Office