A.A. History and Speaker Event
Many remarkable women found recovery in the early days of A.A., including Marty Mann, who helped raise awareness about the importance of treatment and education of the disease of alcoholism. Learn about one of our prominent pioneers on December 10 @ 9:30am. All are welcome at this virtual LGBTQ+ event, featuring a presentation by Mily T. of San Francisco and experience, strength and hope shared by Lavonne P. of San Jose.

Step by Step Workshop: Step 12
The 2022 Step by Step series concludes with the workshop, "Carrying the Message". Join David A. and Cully F. at Hillside Church of Marin in San Rafael @ 2pm on December 10. Topics include effective sponsorship and the many ways we can practice the 12th Step.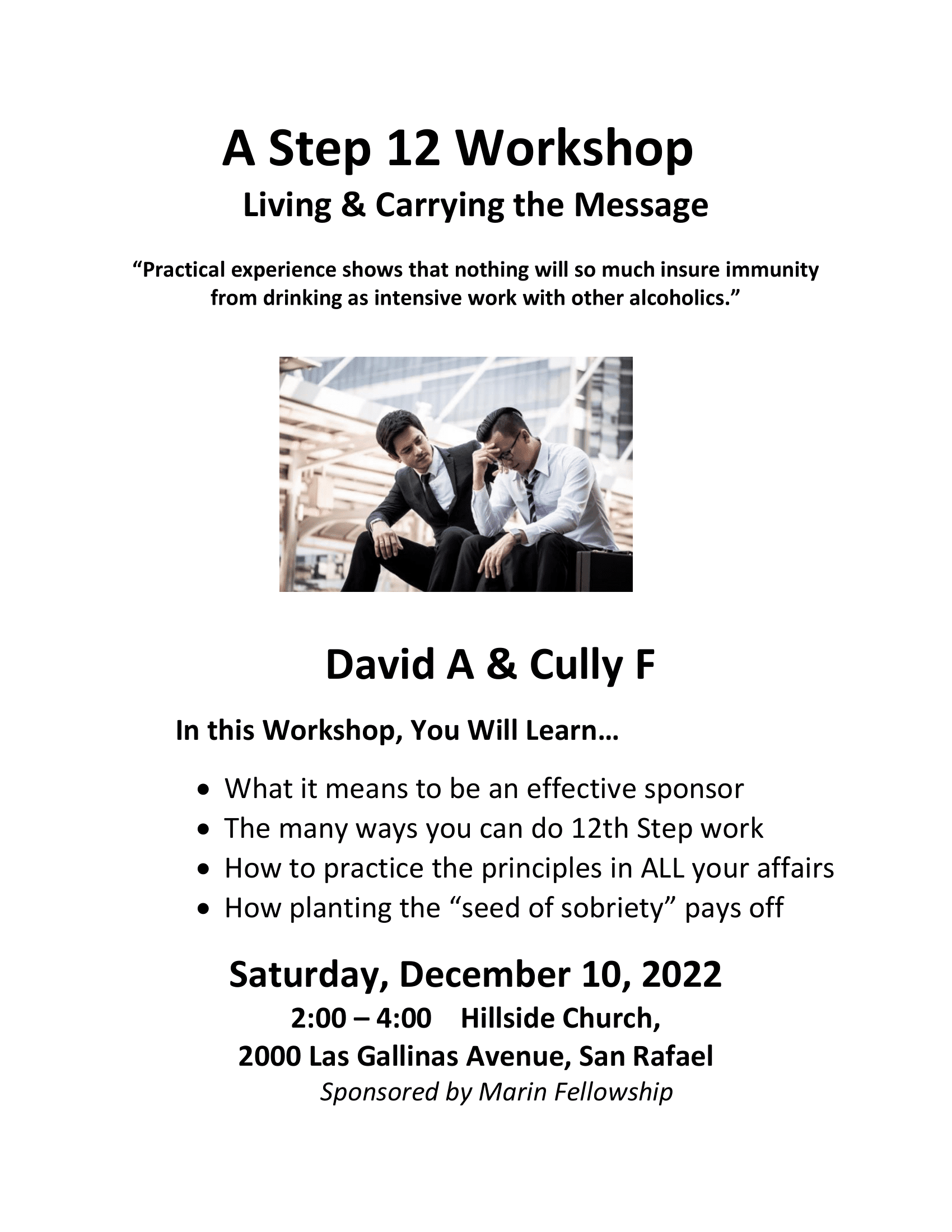 Service Opportunity: Intergroup Needs a Co-Webmaster
San Francisco and Marin Intergroup is looking for a new Co-Webmaster to help maintain the aasfmarin.org website. If you have experience with WordPress, please consider volunteering. Previous experience as a Webmaster is a plus. For details, email [email protected].
Survey: Closing Big Meetings at International Convention
General Service Office in New York is asking the Fellowship for feedback on how to close the Big Meetings at the International Convention. Provide your input here and submit by December 15.
Service Opportunities for the Week …
Marin County Young People in A.A. (MCYPAA) (in person) is December 4 @ 2pm.


Technology Committee (online) is December 5 @ 6pm.


San Francisco Bridging the Gap (online) is December 6.

Orientation @ 6:30pm

Business Meeting @ 7pm


Marin 12 Concepts Study (online) is December 6 @ 7pm.


San Francisco and Marin Intergroup (online) is December 7.
A Spiritual Awakening
For the love of rainy days, please share this information with your social media communities (keeping in mind our 11th Tradition of anonymity) and encourage your A.A. fellows to subscribe to The Buzz. All of our prior updates can be found here. Drop our subscription link in the chat at your meetings and tell your members to subscribe to stay in the know on what's happening with SF/Marin A.A.
Your San Francisco and Marin Intergroup | Central Office