Marin Pop Up Bookstore
It's almost time for the monthly pop up bookstore in Marin. Need a new book to read with a sponsee or pamphlets to offer at your meeting? Pre-purchase your A.A. literature and chips by Saturday, August 19 @ 2pm via the online bookstore for pick-up on Monday, August 21 at the Marin General Service meeting in the Jackson Cafe at Vivalon (930 Tamalpais Avenue, San Rafael). Select A.A. literature will also be available for purchase 6:45-9:30pm.
Step by Step Workshop: Step Eight
The 2023 Step by Step series continues with a Step Eight workshop, "Made a list of all persons we had harmed, and became willing to make amends to them all". Bring your Big Book and join Patty H. at Mount Tamalpais United Methodist Church (410 Sycamore Ave., Mill Valley) for step guide activities and pizza on August 26 @ 1pm.
12 Concepts Workshop Reminder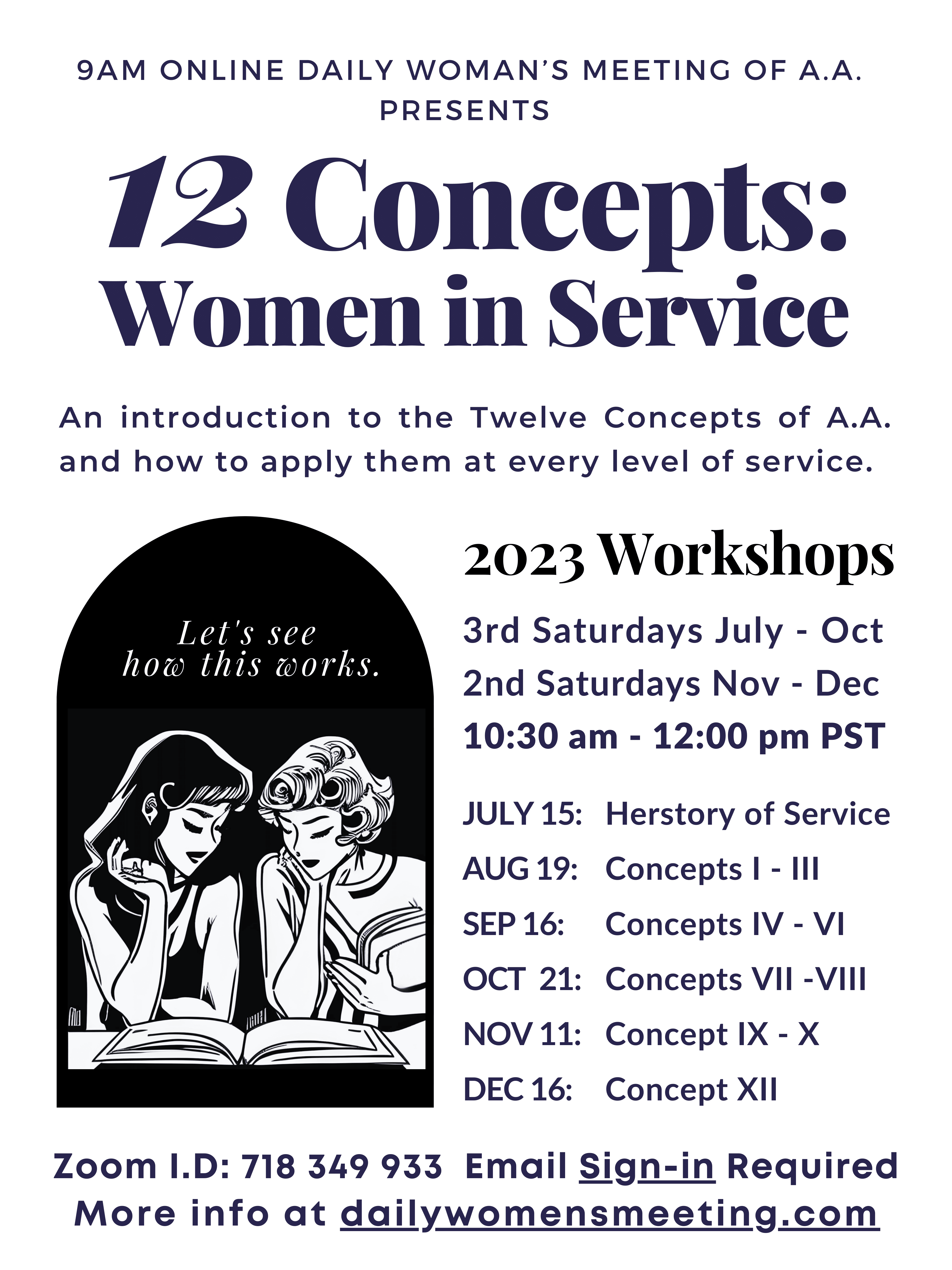 Service Opportunity With The Buzz
Want to know how The Buzz is put together? If so, volunteer for the Associate Editor position. The Associate Editor helps draft the weekly content for The Buzz. It's a one-year commitment. Serving on The Buzz is a great way to stay on top of what is happening in the San Francisco and Marin fellowship. Email [email protected] for more information.
Watch Loneliness Vanish at ICYPAA
Central Office Closure
Central Office will be closed on August 26 due to the San Francisco and Marin Intergroup Board Retreat. It will resume regular hours of operation, which are Tuesday-Friday 10-6pm and Saturdays 12-4pm.
Service Opportunities for the Week …
SF H&I (in person) is August 19.

SF Teleservice (online) is August 21.
Marin General Service (hybrid) is August 21.

New GSR Orientation @ 7pm

Business Meeting @ 7:30pm
We Must Stay Connected
For the love of friendships, please share this information and encourage your A.A. fellows to subscribe to The Buzz. The Buzz is produced by San Francisco and Marin Intergroup. To learn more about Intergroup, check out our Annual Report.
Your San Francisco and Marin Intergroup | Central Office