Intergroup Board Elections
San Francisco and Marin Intergroup is accepting Board nominations for elections this June. Serving as an Intergroup Board member is a big, but very rewarding commitment. The Board is responsible for overseeing and supporting Intergroup on behalf of the A.A. groups in Marin and San Francisco. To be eligible, you must be an active member of A.A. with a minimum of two years sobriety. In addition, we are in need of a new Treasurer, so please spread the word. Click here to learn more about serving on the Board and if you're interested, submit your statement of interest no later than May 1.
Monday: Marin Pop-Up Bookstore

Write for The Point
The Point is a monthly publication featuring works by local A.A. members. Consider contributing your own experience, strength and hope! For inspiration and ideas, check out this page for monthly themes and writing prompts, and view current and past issues of The Point here.

Step by Step Workshop: Step Four
The 2023 Step by Step series continues with the workshop, "Made a Searching and Fearless Moral Inventory". Bring your Big Book and join Katrina K. at Mount Tamalpais United Methodist Church (410 Sycamore Ave., Mill Valley) for learning activities and pizza on April 22 @ 1pm.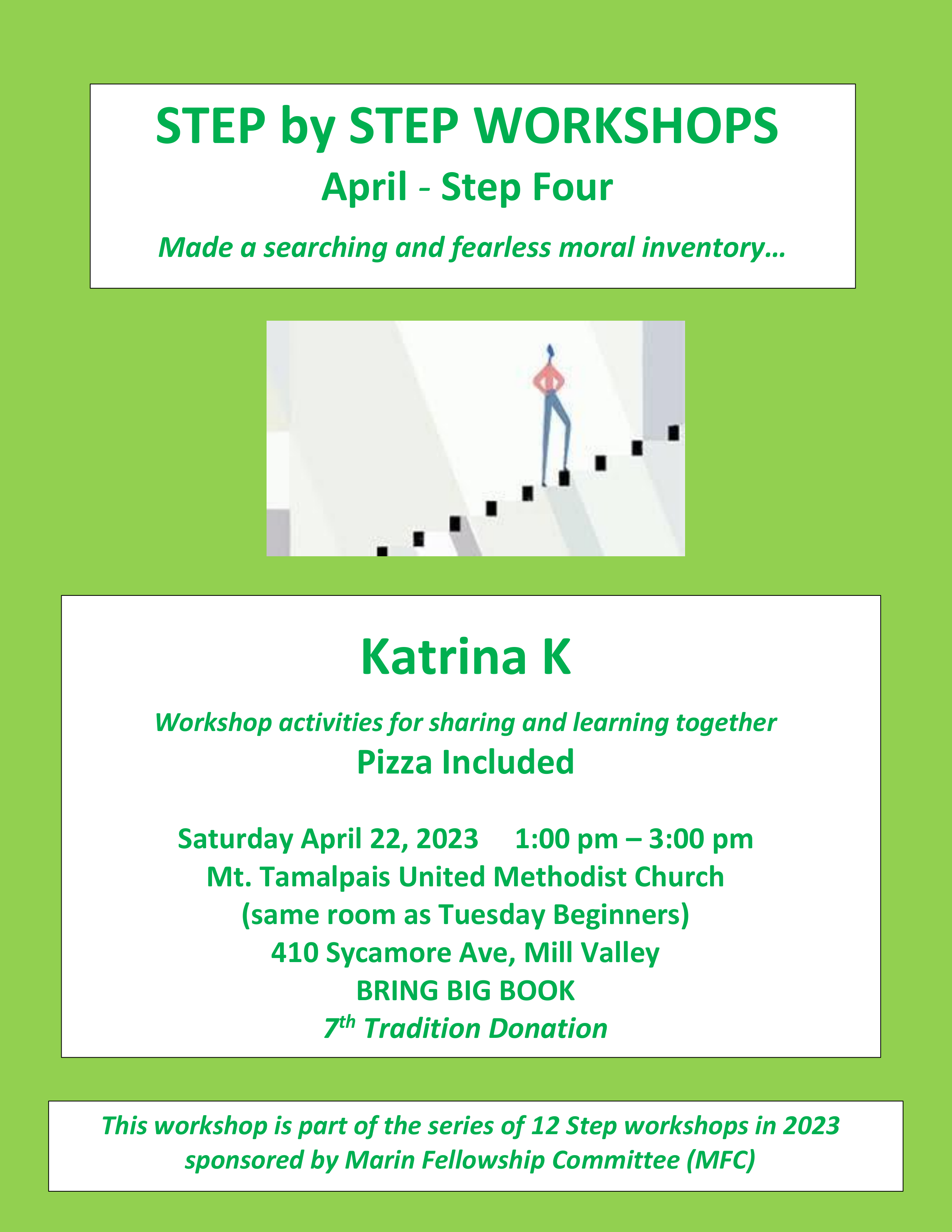 Save the Date: H&I Conference
The 47th Annual Northern California Hospital and Institution Conference is May 19-20 in Sacramento. This year's theme is "Bringing Hope Where There is No Hope". The schedule includes panels, speakers, food and a raffle. All are welcome; you do not need to be a member of an H&I committee to attend. Register here.

Volunteer With Sunshine Club
Sunshine Club brings A.A. meetings to members in San Francisco and Marin who are unable to attend regularly scheduled in person meetings due to illness, accident or medical condition. Join the next volunteer orientation on April 19 @ 7:30pm (online). If you'd like to join Sunshine Club and are unable to make the next orientation or if you'd like to schedule a meeting for yourself or an A.A. member, contact [email protected].

Service Opportunities for the Week …
We Must Be Willing to Grow
For the love of spring sniffles (or not), please share this information and encourage your A.A. fellows to subscribe to The Buzz. The Buzz is produced by San Francisco and Marin Intergroup. To learn more about Intergroup, check out our Annual Report.
Your San Francisco and Marin Intergroup | Central Office